Shoreline Greenway Trail is an all-volunteer organization dedicated to building a 25-mile continuous path for bicyclists, walkers and hikers  on the Connecticut Shoreline from Lighthouse Point in New Haven through East Haven, Branford, and Guilford to Hammonasset Beach State Park in Madison.

The Guilford Team of  Shoreline Greenway Trail invites walkers and bikers of all ages, families with kids in strollers, etc. to participate in this local Fall event.  Join us to raise awareness of the trail and to support safe walking and biking in Guilford and across our Shoreline towns – creating A Better Way From Here to There!!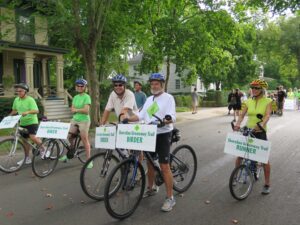 If you are interested in joining us for the parade, please e-mail Kristen D'Souza in advance at kristen.dsouza@gmail.com.