Spring is emerging with the promise of green buds and delightful bird songs along the Trail.  We are excited to get back 'on the Trail'  again!  Please check our Open Trails section to find out where you can walk with family and friends to explore more sections of the Shoreline Greenway Trail on your own.
If you want to help clear and build trail,  join our volunteer Green Teams  – we'll  start working on the Trail soon again
.
CANCELLED  –  "FIRST SATURDAY" WALK  on MAY 7 in GUILFORD.    Please check back for details about our First Saturday summer walk in Branford on June 4, on National Trails Day.
First Saturday Walks are open to the public.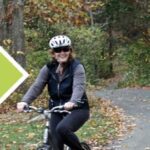 Good News! First Saturday Bike Rides this summer. Members, look for your Postcard Schedule of the Summer First Saturday Hikes & Bikes –  to be mailed in May.
COMPLETED  FIRST SATURDAY WALKS WINTER 2011:
MARCH 5, SATURDAY at 10:00 am  * MADISON at BAUER FARM Bauer Farm is a lovely town park that was once a working farm. We will walk the Woodland Trail through grassy meadows and wooded wetlands, past hillside cliffs and stone fences, then on to the Pond Wetland Trail, passing by two ponds, a covered bridge, bluebird boxes, and across a forested wetland boardwalk. The c. 2 mile walk will be easy.   Directions: from I-95 exit 61, left to follow Rte 79 north 500 feet to Hunters Trail. Turn left onto Hunters Trail and follow to the end at the intersection with Copse Road. Bauer Park is directly across Copse Road. Turn right and look for SGT arrow signs to parking lot.
FEBRUARY 5, SATURDAY at 10:00 am  *  TABOR PROPERTY, BRANFORD  **CANCELLED DUE TO HEAVY SNOWS We will return to traverse the western section of the Tabor Trail, which has been significantly widened and improved.  Walking to the pond, we will turn south toward the old landfill, which is now a wonderful hill sometimes called Mount Branford.  From the top of this hill we will be able to see long Island Sound, East Haven, and much of Branford.  It is really an inspiring sight!  This trail is not yet suitable for strollers, but children and dogs are most welcome.   Directions:  south on Montowese Street across Branford River, take first left, Tabor Drive. Meet at the Tabor Church parking lot at 10AM.