EAST HAVEN, CT Incorporated 1826/Population 18,000+
[singlepic id=99 w=320 h=240 float=right]Town where the west end of the Trail starts at Lighthouse Point on New Haven Harbor, spanning 25 miles east to Hammonasset Beach State Park in Madison.
NEWSFLASH  – VOLUNTEER RIGHT NOW !!  JUMPSTART SPRING !   We can't do Trail work until the snows melt, but there are many, many other important tasks to accomplish  immediately to help us prepare for this Spring's activities for the East Haven sections of the Shoreline Greenway Trail. Have fun and help – see what task below appeals to you, and if you have a little time, please call chair Barbara Brow at  203-469-9127. Volunteers are needed  in East Haven to:
– WRITE A GRANT – research and write grants for funds to build our trail section in the Farm River State Park.
–  IDENTIFY TREES along the trail at DC Moore School and tag them.
– HELP PLAN A BIRD HOUSE PROJECT for a March installation.
– ORGANIZE  TRAIL MAINTENANCE  to get ready for work in March!
FOR OTHER CURRENT VOLUNTEER OPPORTUNITIES NOT SPECIFIC TO EAST HAVEN,  please check the VOLUNTEER section of our website.
Trail Section Update
Trail work in East Haven is at varying stages, with an approximate total of 1.5 miles cleared across three sections.
Two sections are located on town property at DC Moore School; one is about 1,300 feet and completely constructed, while the other is about 720 feet of cleared trail leading to a beautiful overview of our tidal wetlands known as the Bradford Preserve.
The third cleared section, approximately ¾ of a mile, meanders through Farm River State Park.
Current Trail Access locations:
Short Beach Road at the entrance to Farm River State Park
Elliot Street – DC Moore School
Cosey Beach Avenue and Coe Avenue (Town Beach parking lot) after Labor Day and before Memorial Day
Mansfield Groove Road and Hoop Pole Lane (parking lot)
A Word of Thanks
On June 5th we celebrated Connecticut Trails Day by hosting a walk and ribbon cutting ceremony to officially open the Farm River State Park Trail section which was thankfully cleared by Boy Scout Troop 401 and the young men who chose Shoreline Greenway Trail for their Eagle Scout project. Attending the ceremony was Wendy Bellmore, Regional Commissioner of the Boy Scouts, Boy Scout leaders Michael Gambardella and Brian Burr, State Senator Leonard Fasano and East Haven Mayor April Capone Almon. Connecticut Trail Day – The Courier
The scouts who cleared our trails (working toward their Eagle Scout Badges) were:
Justin Richardson – first cleared trail (1,300 feet) at DC Moore School
Michael Gambardella, Jr. – second cleared trail (720 feet) at DC Moore School
David Gambardella, Alex Burr and Brandon Pinche  – third cleared trail through Farm River State Park
Thanks also go out to a group of students from the East Haven 'Summer Help Program' who assisted in a clean up at DC Moore School trail.
Finally, Ed Foley graciously videotaped our public hearings on Stantec's feasibility study.
Other Happenings
Media Coverage
Public Access TV:
Our June walk and celebration was covered by Ed Foley who videotaped it for broadcast on Channel 18.
Newsprint:
Our June walk/celebration in East Haven Courier
Radio:
Public Service Announcements run regularly to encourage walking our beautiful trails.
New Parking Lot
With Mayor April Capone Almon's approval, the East Haven Public Service Department has created a parking lot at Hoop Pole Lane and Mansfield Grove Road.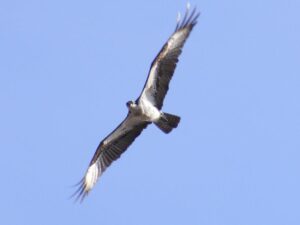 Osprey sighting, Herons and more
Two osprey and nests were found at Bradford Preserve; herons and other small wildlife can be seen throughout Farm River State Park.
October Walk
On October 2nd, East Haven Board Members Michael Gambardella and Barbara Brow led a hike through two wooded and picturesque trail sections at DC Moore School.
Walk details can be found here…
.
EAST HAVEN EVENT SCHEDULE
Stay Tuned to Channel 18
Town Chair Barbara Brow will be a guest in December 2010. Date/time to be posted soon.
East Haven Team Meetings
All those who wish to promote the trail in East Haven are welcome to join us at the East Haven Senior Center (Taylor Ave.) on the second Monday of each month at 7:00PM.
EAST HAVEN TEAM CONTACT INFORMATION
Email: easthaven@shorelinegreenwaytrail.org
Town Chair:  Barbara Brow  203-469-9127
Alternate Town Chair: Michael Gambardella
Other Town Team Leaders: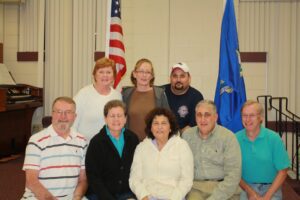 Toby Armour
John Cox
Barbara Esposito
Mary Frazeur
Michael Gambardella
Carole Holm
George Kenyon
Kelly Kenyon
Lara Miner
Bill Richardson
Don Thomas
Peggy Thomas
HOW WOULD YOU LIKE TO VOLUNTEER?
Build or maintain trails? Help raise funds or increase membership? Join the Outreach Team to help promote our cause? We'd love to have you on board. Click here to sign up.
LOCAL POINTS OF INTEREST/OTHER LINKS
Gazebo at Splash Park
Town Beach: www.townofeasthavenct.org
Shoreline Trolley Museum: www.bera.org
Farm River State Park: www.ct.gov/dep/cwp/view.asp?A=2716&Q=454726
Sand Piper Restaurant: www.sandpipereasthaven.com
Beachhead: www.beachheadct.com
The Lodge at Silver Sands Beach Club: www.silversandsbeachclub.com