Hiking the Camino De Santiago in Spain    by Ted Braun, SGT Volunteer and Board Member   An avid hiker and bicyclist, Ted has been a valued and articulate member of the Shoreline Greenway Trail Board for ten years. His dedicated leadership with trail development set us on the right course.  
Take a week.  Go with only a pack on your back.  Tread the same well-worn path trod by millions of pilgrims bound for Santiago de Compestella since medieval times. The Camino de Santiago in Northern Spain is a glimpse into unique and authentic Spanish culture unfolding before you, footstep by footstep, vista by vista, hamlet by hamlet, and town by town.
Choose any section you can manage in the time you have and step forward into this rich cultural heritage.   Your journey merges serendipitously with fellow pilgrims from all over the world as your steps fall in synch along the trail, or as you seek nourishment and a place to lodge.  These casual encounters morph into rapidly established friendships as your paths continue to cross.
A comment shared one day becomes an opportunity to break bread together two days later. Sharing stories allows for the recognition of the common threads that bind us all together.
We have now experienced the Camino a number of times in all conditions.  We have hiked in the 90 degrees through the vineyards of Rioja and through a snowstorm in the mountains around O Cebreiro.  We dined at the backside of the wonderfully warm wood-fired stove in Manuel and Esperanza's farm kitchen with their daughter Susanna and a couple from Germany.
We learned about dragon boat racing sharing the dinner table with two couples from Singapore hiking for  breast cancer research. We  interlaced our last 3 days on the trail with Gertrude, a 75 year-old German woman completing her 1,500 mile walk from home shortly after double hips replacement.  What an inspiration!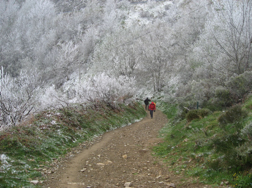 The Camino is a metaphor for life. We all are on a journey.   We form community along the way with family and friends.   We try, as best we can, to share in life's richness and to pause, at times, to reflect on life's mysteries and beauty.  The Camino allowed us to strip life down to its essentials, breathe deeply, and appreciate.