Incorporated 1685 / population 29089 (as of 2005), Branford is thirteen miles east of New Haven and the second town along the Shoreline Greenway trail as it makes its way to Hammonasset. The plan is for Branford to have 8.9 miles of trail designated as Shoreline Greenway.
Happenings this month
Happening right now – Trailblazer in Branford is having a Wooden Nickel event.
For every purchase of an item with the Trailblazer logo on it, the purchaser is given a wooden nickel.  That wooden nickel can then be deposited in one of 3 displayed local non-profit organization containers – Shoreline Greenway Trail is one.  At the end of the month, Trailblazer will donate $5.00  for every wooden nickel in the container to the designated non-profit organization.  So shop the Trailblazer logo and deposit your wooden nickel for the Shoreline Greenway Trail!
On June 2 – Shoreline Greenway Trail First Saturday Walk will be held in Branford.  Explore the border of Branford and East Haven on Connecticut Trails day.  This easy walk, led by Chet Blomquist and Leo Cristofar, will take us from Alps Road, through woodlands to a beautiful view overlooking the Farm River and marshes across to East Haven (site of Branford Electric Trailway Line).   It will be approximately 1 hour and please note that the trail is not yet suitable for strollers.  Meet at 10:00 a.m. at the intersection of Alps Road and Katie-Joe Lane. 
DIRECTIONS:  Take Route 1 to the light  just west of Branhaven Plaza and make a left onto Alps Road.  Take Alps Road for approximately 1 mile.  Look for the Hearth at Gardenside on your right.  Katie-Joe Lane is directly across on your left.  We hope to see you there!
On June 16 –  The Shoreline Greenway Trail Branford team will be at the Branford Festival  celebration.  Please stop by, meet our volunteers, pick up information about the Shoreline Greenway Trail and learn about opportunites for joining us in creating this awesome 25 mile walking, biking trail!
Sequels
On May 8, Shoreline Greenway Trail celebrated its 10th anniversary. The annual meeting was held in Branford and featured author Mary Collins (American Idle) as a guest speaker. A brief time at the beginning of the evening was set aside for Shoreline Greenway Trail "business". Chip Angle (Shoreline Greenway Trail, Inc. Chair) presented updates on trail development and nomination for reelection and new board members. He also recognized Branford's volunteers with a plaque and presented each with a SGT Outstanding Volunteer baseball cap. Unk DaRoss reiterated his support for the work being done by the Shoreline Greenway Trail and encouraged all in attendance to lend their assistance in getting the trail completed.
[slideshow id=39]
Then the floor was turned over to Mary Collins! She is a vivacious, animated speaker who inspired everyone at the meeting to look at life and living from perspectives we would never have before. Mary shared the experiences she encountered while writing her book American Idle – A Journey Through Our Sedentary Culture and related them to what we are doing on the trail. She also generously donated a portion of the sale of her books to the Shoreline Greenway Trail. We thank you, Mary, for your insights and your generosity!
A raffle of Chet Blomquist's beautifully hand-made walking sticks was held at the end of the evening.  Thank you Chet!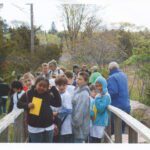 On April 24 Branford Team co-chairs, Chet Blomquist and Judy Miller, took the third grade class at the Murphy School for a tour of the Greenway Trail in Branford. Since teachers are focusing this year on how Branford volunteers are working to improve the environment, the  Students got to experience it first hand.  They went on a short walk along the Stony Creek Trolley Trail where they got to see the  many wonderful things this trail has to offer.  They also visited the Branford Land Trust's Vedder property, where a BLT guide talked with them about ospreys, explaining the key role of the osprey nesting areas constructed by the BLT to their preservation as a species. Finally, the students went to the Branford Supply Ponds where they spent the remainder of the day appreciating the great outdoors and the role it plays in a healthy community.  As you can see from the letters displayed, a good time was had by all!
[slideshow id=40]
Profile of the Month

Judy Miller,  Co-Chair of the Branford Team, first became interested in the  Shoreline Greenway Trail when she walked  with the Branford Walkers at the time Chet Blomquist was the leader  Now she enjoys working with Chet as Co-Chair of the Branford Team.
Judy grew up in rural Pomfret, Connecticut.  A classics major, she graduated Phi Beta Kappa from Tufts University, earned a doctorate in British Literature at the University of Connecticut, and taught British Romantic Literature for 26 years at Sacred Heart University in Fairfield. She is married to Dr. Ronald Heiferman, Professor of History at Quinnipiac University, with whom she has travelled over seven continents. Together they have five children and nine grandchildren who keep her busy.
While she loves her work as a steward for the Branford Land Trust and her involvement with other organizations, she spends most of her volunteer time working to make the Shoreline Greenway Trail a reality. A Branford resident for 28 years, she is proud of her town and of the cooperative, hardworking, talented and dedicated Branford SGT team.
Trail Information
To date the following sections of Branford's trail has been owner approved, and much of it is open to the public, though not SGT trail ready:
3600 ft – Tabor Property Drive to Pine Orchard Road
2400 ft – Pine Orchard Road to Young's Pond Park
2100 ft – Young's Pond Park to Blackstone Ave. (Rte. 146)
2000 ft – 146 Totoket Rd to Tilcon Drive
1000 ft – Tilcon Drive to Tilcon Parking Lot (next to RR tracks)
4224 ft – Tilcon Parking Lot to Stony Creek
Volunteering
There are many, many important tasks associated with the Shoreline Greenway Trail, which include:
Building and maintaining trails
Raising funds
Increasing SGT membership
Publicity
Government Liaison
Fiscal work
Identifying and tagging trees along the trail.
If you would like to volunteer, call Co–chair Judith Miller at 203-481-3870 or click the Volunteer tab of this website.
We'd love to have you on board!
Branford Team Meetings
All those who wish to promote the trail in Branford are welcome to join us at 7:00 p.m. on the 3rd Wednesday of each month at the Community House on the corner of Church and Prospect.
Branford Team Contact Information
Co Chairs: Chet Blomquist (203-488-5640; chetandtheboys@sbcglobal.net) and Judy Miller (203-481-3870; j.miller@snet.net)
Trail Development: Jack Wood (woodbythesea@sbcglobal.net) and Pete Peterson (evapete@sbcglobal.net)
Web manager and publicity: Jo Zaehringer (jozringer@yahoo.com)
Grants and Project Manager: Peg Stamp (pegstamp@sbcglobal.net)
Local Points of Interest / Other Links
Branford Hikers – Geoffrey Smith 203-215-1175; isput@sbcglobal.net
Branford Land Trust – 26 School St., Branford 203-483-5263
James Blackstone Library – 758 Main St., Branford 203-488-1441