Nineteen enthusiastic folks joined our 15-mile bike ride on July 7 from the Guilford docks to Madison's Circle Beach boat launch, visible just across the East River but alas, no bridge . . . so we traveled via historic Boston Street and busy Route One to Neck Road,  leading to the boat launch and great views of the marsh and an osprey nest with two fledglings!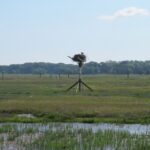 SGT members led the ride, with front group led by Bruce Simonds, the more leisurely bikers by Pam Simonds and Karen Stark, with Sabine Harris  serving as the "caboose".  Everyone enjoyed seeing historic sites along the way – the Black House, the Civil War cannon, and a pastoral farm off Tanner Marsh Road.  And of course, the most photographed and painted site in Guilford, the red cottage on Grass Island across from the Guilford docks.
It was hot!  And we had a great time.