The first annual Trailblazer 'Run the Gauntlet' 5k obstacle race for the benefit of Shoreline Greenway Trail was a huge success! Over 500 runners participated – young and older – running under and over and through various obstructions on Hammonasset State Beach in Madison. These participants included two of our "older" leaders on the Board of Shoreline Greenway Trail, Chip Angle from Guilford and John Paulson from Madison.
The toughest obstacle was actually the beach itself; running for miles on loose sand isn't easy! Trying to run through waist-high water was also difficult, and crawling under nets and construction blankets and through tubes somehow left John and Chip pretty darn sandy.  That's not to mention the 5 ft wall they had to scale, the tires they had to hop through or the hay bales they had to climb over!
The good news is that both Chip and John finished in one piece. In fact, Chip managed to get to the finish line ahead of roughly 200 other stragglers, actually placing first in his age group! (There was only one other septuagenarian whose sanity we question for even running the race).   John at a young 67,  easily persevered and came in third in his age group!
 Many, many thanks are due, to our sponsors, to our volunteers, and to our contributors! Thanks to our Gold Sponsor, Yale-New Haven Hospital, to our Silver Sponsors, Guilford Savings Bank and CT Orthopaedics & OrthoNOW, and to our Race Friends – Starfish Market, A&L Tree Experts, and Guilford Greene Gallery – for your generous support!
Many, many thanks to the more than fifty volunteers. These included high schoolers through the Madison Rotary Interact program, our SGT Madison organizer, Ginny Raff  and other SGT Board members, spouses and grandchildren!
These volunteers helped to set up, signed in participants, monitored the course, gave out water and served food at the ending celebration!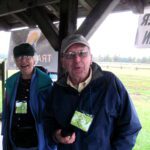 And of course many, many thanks to those of you who contributed to the Trail through this event helping to spur on our TEAM SGT!  We hope to see you all next year!