We hope everyone had a healthy and happy holiday season!
Like many of you , we've been cleaning up after Sandy and catching up on our paperwork.  Please visit our new Facebook site – you'll like it!
 Sequels to Previous Events
OnWednesday, December 26, a grey winter's day, 17 stalwart souls, several of them children,  braved the weather to walk on Branford's Tabor Property.  Leader Chet Blomquist took the group along the proposed Shoreline Greenway Trail, noting the beauties of Chet's Pond where ducks serenely floated, explaining the interesting history of its creation.  The group noted the tracks of wild turkeys as well, as Chet described the potential of this beautiful section of Trail.   This walk was aimed especially at children, getting them outside into the fresh air at a time of year when they are all too apt to stay indoors with new toys and electronic equipment, though several adults expressed the need for the outdoor exercise as well after holiday parties and dinners.  Branford's Shoreline Greenway Trail hopes to make this an annual event!
On  January 5, despite some initial confusion due to a rally occurring the same time as the walk, Chet Blomquist and Leo Cristofar led a great walk on the Tabor property. There was a turnout of about 50 people, including one hearty 90-year-old walker!
The walk headed east on the Greenway Trail to the end, near Pine Orchard Road, then back on the Branford Trail, then up the road to the top of the landfill and back down.
Andy Campbell  talked a bit about the Tabor property and gave out maps of the property and development plans. Chet talked along the way  about the history of the Tabor property and Leo took some great pictures.  Overall, it was an experience enjoyed by all!  Thank you Chet and thank you Leo!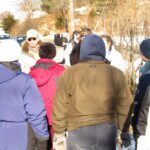 Profiles
We will resume profiles next month!