On June 1st, Connecticut Trails Day, Shoreline Greenway Trail's Branford Team and East Haven Team, and the Shoreline Trolley Museum  in East Haven together hosted a special treat for our First Saturday monthly walk – a visit to the museum with a free trolley ride and a hike to the site of one of our next major Trail projects – a new pedestrian bridge to cross the Farm River between East Haven and Branford.  Over 80 people enjoyed the morning under sunny skies.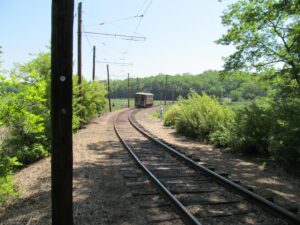 Two antique trolleys took us over the river along woods and marshland
to a platform where we disembarked to walk along a temporary path to the old tide gate along upper Farm River.
Leader Chet Blomquist reminisced that  he used to "ride the rapids" in a canoe here.  The tide gate, destroyed in the hurricanes of 1938 and 1954, will be rebuilt as the base for our new walking and bicycling bridge over to East Haven.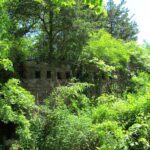 We also explored the nearby abandoned stone crushing mill where there are great views atop  the cliff looking 'down river'.
Along the way we spotted a turkey in the bush, and soaring osprey. 
It is exciting that this planned Trail route will connect two parks in adjacent towns:  Farm River State Park in East Haven via Meadow Road and our new pedestrian bridge across the Farm River to the Beacon Hill open space, a State-owned property in Branford.  
Immediately after, we held our brief 11th Annual Meeting at the nearby Christ & Epiphany Episcopal Church Hall, with Board elections and reports from our SGT Town Team chairs, followed by recognition of our Outstanding Volunteers of the year.
Chairman Chip Angle lauded the accomplishments of all our volunteers, stressing our unique status as an all-volunteer organization completely dependent on our supporters' interest and good will to serve as volunteers.  This year, thirty special Shoreline Greenway Trail volunteers were honored from our five towns.
They have dedicated their special talents and energy to Shoreline Greenway Trail this past year in varied ways – as new Town Chairs, as Green Team Trail builders and boardwalk builders, as Fundraising Mail Team processors, and as Town government liaisons.  The Town Chairs presented each volunteer with a special cap, embroidered with "SGT Outstanding Volunteer".  The  2012 Outstanding Volunteers are featured in our just-completed 'Annual Report: May 2013'.
Outstanding Volunteers 2012 honored at SGT's 11th Annual Celebration present for the event include:  front row – Branford's Pete Peterson seated and Madison's Perry Reinhard standing; middle row standing from left – East Haven's Bill Richardson, Arlene Hackbarth of East Haven Land Trust, Mike Gambardella, Town Director Art DeSobo representing East Haven Mayor Joseph Maturo, and New Haven's John Cox;  back row – Madison's Dave Kelley and George Haines.