Nearly 50% of Shoreline Greenway Trail's proposed 25-mile route is completed, under construction, or approved, in separate sections along our four shoreline towns to Lighthouse Point in New Haven.   In the Fall of 2013, we completed three trail sections in Branford and Madison.   We are diligently working on plans for more new trail sections to build in each of our towns, including our very first trail section in Guilford. As we secure more landowner agreements for right-of-way use,  our Trail sections will be linked together for one glorious, continuous Shoreline Greenway Trail.
Open Trail Sections 
Seven separate trail sections are now open for use in three of our four towns.  Their cumulative lengths add up to roughly 6 miles, almost 25% of our proposed 25-mile route.   These trail sections are all available for walking, and some open for short bike rides.  Please proceed with care on trail sections under construction.
East Haven ( 2 Sections)
Farm River State Park – walking:  1/2 mile, cleared only
You will have fun going up and down the hills on this cleared, not-yet-constructed path, through a mountain laurel grove, over two short foot timber bridges in the valley among flowers and frogs, over a gravel access road before finally exiting at the east end of Pevetty Drive.  A side trip off the trail south on the gravel road leads to a grassy overview of the Farm River – a great spot for a picnic.  Pevetty Drive is very short, ending at Mansfield Grove Road where you turn left and cross Mansfield Grove Road to SGT's Trailhead at the intersection with Hoop Pole Road.  Note: the Farm River State Park trail is quite steep in one area along the 2,100-foot traverse, difficult for young children and cyclists, and not suitable for wheelchair use.  
Directions: From Route 1 in East Haven turn south, toward Long Island Sound, onto Route 142 (Hemingway Avenue) 9/10 mile. Turn left on Short Beach Road (also Rt 142) 9/10 mile. Immediately after large dolphin mailbox, turn right into small parking lot of the State Park (diagonally across from Fairview Avenue).  Google Map   (Trail Map To Come)
Mansfield Grove Road to DC Moore School – walking and  biking:  1,500 feet, finished

Enter at the SGT Trailhead and parking area at the corner of Hoop Pole Lane and Mansfield Grove Road. The kiosk and timber bollars were installed by East Haven Boy Scout Troop 401, with the help of East Haven completed with timber guard rails and timber bollards. The Trail winds for 1,200 feet through heavily wooded terrain past a huge boulder (glacial erratic) to the field on the south side of DC Moore School.  This wide, level trail section was completed in April 2012 with a lot of volunteer help from local Boy Scouts.  From there, you will be traveling generally west to the exit at DC Moore School. Don't miss the interesting trail spur, a cleared, not yet constructed path 720 feet long, that starts at the log bench "classroom" about 200 feet from the DC Moore School.  It leads to a lovely overview of the Bradford Preserve, where we will be constructing a boardwalk that will lead to Cosey Beach Avenue.

Directions: From Route 1 in East Haven turn south, toward Long Island Sound, on Route 142 (Hemingway Ave) 9/10 mile. Turn left on Short Beach Rd (also Rt 142) 7/10 mile. Right on Mansfield Grove Road 1/2 mile. Right on Hoop Pole Lane. Immediate left into trailhead parking lot at corner of Mansfield Grove Road and Hoop Pole Road.  Parking:  available at three areas:  on Short Beach Road to enter the Farm River State Park;  at our Shoreline Greenway Trail trailhead the corner of  Hoop Pole Lane and Mansfield Grove Road; and also on Elliot Street behind the DC Moore School where you can enter the Trail at midpoint.  Google Map  (Trail Map To Come)

Branford ( 4
Sections)
Good news!   It is now possible to walk between Stony Creek and the Center of Branford almost entirely off-road on our trail route.  We hope to have much of this route bike-able in the near future.
Stony Creek Trolley Trail to Totoket Road – walking and biking:  1 mile, cleared narrow path and surfaced trail      
A very popular trail goes from Stony Creek to the Tilcon Parking lot in Pine Orchard. The town has given permission for Shoreline Greenway Trail to designate the Trolley Trail as part of the Shoreline Greenway trail. It follows the original trolley line and crosses a tidal creek over the old existing trolley bridge, affording views of a nearby osprey nest and the Stony Creek harbor. A little further on, pass through a rock cut below Pleasant Point Road with nearby access to a walking trail up to the Branford Land Trust Vedder memorial and a view of a classic salt marsh. The Trolley Trail crosses the Tilcon train track and parking lot and continues up past a small planted lookout area with an SGT bench to view the marshes and distant trains.  Proceed on the Trail on the north side of Tilcon Road, to Totoket Road, where we will soon be building the next Branford section of Trail.

Directions & Parking:  Exit 56, I-95 South on Thimble Island Road to Stony Creek.  After proceed under railroad bridge, turn right opposite the Willoughby Wallace Library onto West Point Road and go a short distance to park beside the baseball field.
Young's Pond Park (walking:  3/4 mile, natural path)     After walking north by the golf course along Totoket Road, head west on Blackstone Avenue and enter Young's Pond Park. Enjoy the beautiful pond as you walk west and north, exiting Young's Pond Park at Birch Road, crossing the road directly and finding the Birch Road Trailhead kiosk.
Directions and parking:  Exit 55 off of I95, west on Rt 1; left onto Windmill Hill Road; left on Damascus; right on Totoket; right on Blackstone.  Parking lot is on the right.   Google Map   
Birch Road to Pine Orchard Road ( walking and biking:  1/3 mile, ready for topping)    Continue on to our first built section, which has been used extensively by walkers, bicyclists, seniors and many young families with strollers for several years. An easy and very pleasant walk takes you west past community gardens, an Outdoor Classroom, the Pine Orchard Association building (the old fire house) and onto Pine Orchard Road.   
Directions: From Branford Green, travel south on Route 146 (Montowese Avenue) for about 1 mile. Turn left on Pine Orchard Road, then right at the three-way stop to continue on Pine Orchard Road for about 1 mile. After crossing railroad bridge, take first left onto Birch Road. Branford Day Care Center is on the corner. Parking: 3/10 mile further down Birch Road on the north side (left) is Shoreline Greenway Trail Trailhead entrance and a small parking lot.  Google Map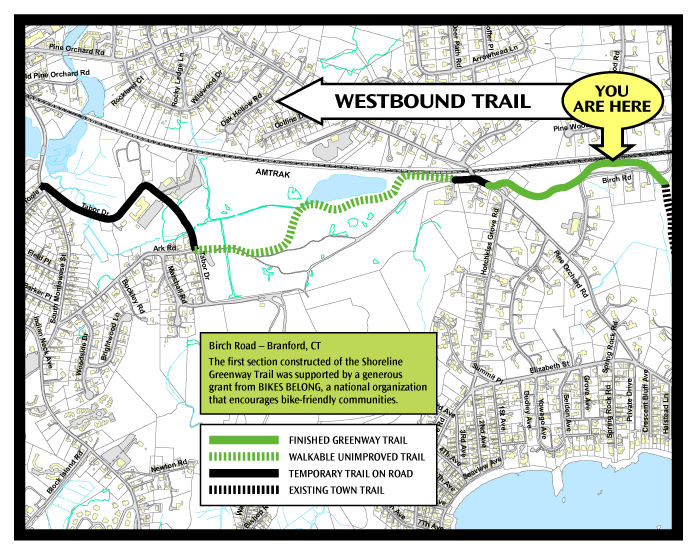 Tabor Property ( walking only:  7/10 mile, roughly cleared path)
Tabor Drive to the Center of Branford – walking and biking:  4/10 mile    Continue west along Tabor Drive, turning right on South Montowese, crossing the Branford River, passing the Branford River Gateway. At this point you leave the Trail and take Montowese on to the Branford Town Green.
Madison – 1 Section
Hammonasset Beach State Park,  SGT Boardwalk and Peninsula – walking and biking:  2 miles R/T.     The Eastern Trailhead is located at the Shoreline Greenway Trail parking area on the south side of Route 1, east of the main entrance road to the park. Temporarily the trail follows the park maintenance road to the park entrance road just north of the park toll gates. An off-road trail will be constructed in this area as part of the park's underground utility replacement project. Across the entrance road the finished trail continues to a boardwalk over a tidal stream, meanders through woods and past the hugely popular park campground. It then continues on a path beside Route 1 to the beautiful, wooded half-mile peninsula trail winding along the borders of the Park with peaceful marsh views and great shore bird watching.  Work is almost complete on the section leading from the peninsula to the intersection of Liberty Street and Route 1. This section is usable and provides an off-road entrance into the  park.
Directions: I-95 Exit 62, south to Route 1. Turn left onto Route 1 and drive up the small hill to the parking lot on the right. Walk down the maintenance road and cross the entrance road near the toll booths. Turn right towards our Shoreline Greenway Trail Boardwalk.  Please note, there is no parking along the entrance road near the walkway. Those parking will be ticketed.    Madison Map  
Google map SGT Madison section
Around the nation, Greenway trail users who bike and walk together along hundreds of greenway trails co-exist with comfort and courtesy. They respect each other, use common sense and yield space as needed.
We suggest the following sensible "rules of the path" to assure that you enjoy your day, and share the Trail with your Trail neighbors:
Walk left; ride right.
If the trail is less than six feet wide and walkers are approaching, bikers dismount and walk to pass by.
Children should be supervised, especially in bridge and street crossing areas.
Stay on the trail path to assure that fragile environments near the Trail are protected and not trampled.
Dogs are allowed on the Trail as long as they are leashed and under control at all times. Pick up and remove any waste.
'Carry in – Carry out' any trash or plastic bottles. And please pick up any litter you may find along the Trail to help us keep it clean for others.
'Be Prepared' – bring drinking water, and bug spray in the summer. Currently there are no bathroom facilities near the Trail.
Be quiet – respect the peace and quiet along the Trail.
Enjoy the beauty of nature and do not pick any flowers or plants.
Alcoholic beverages are not permitted.
Boardwalks and trail surfaces are not sufficient for horses.
Trail is closed from dusk to dawn.
MOTORIZED VEHICLES ALONG THE TRAIL ARE PROHIBITED. Motorized vehicles of any kind (except for motorized wheelchairs) are prohibited on all sections of the Shoreline Greenway Trail.
To report dangerous trail conditions or misuse, or illegal ORV, ATV or motorcycle use on the Trail, contact Jack Wood, Trail Development Chair, at 203-315-1939.
COMING SOON
Soon you'll see small signs/posts with interesting information about the plants and trees, special views and vistas, as well as historical points of interest.
Plant Identification Markers
Trees and plants will be marked with stakes and identification numbers to correspond to a key guide pamphlet, for both the young and older to test their knowledge. Identification pamphlets will be available in boxes attached to major Trailhead signs.
Special Views, Vistas & Historical Facts
Some trails will lead to special features to see, both natural and man-made, such as a cave site, a giant boulder revered by the Indians, a particularly beautiful marsh view, or a dyke or old trolley bed. Discreet signs will identify the site, and highlight interesting facts of history, nature, local lore, etc. to educate the public.
If you have any questions, please contact us.