Our Guilford SGT Team made a big splash at Guilford's 375th anniversary Parade!  Twenty of us all in our SGT 'Green Team' t-shirts, marching, biking and riding for Shoreline Greenway Trail.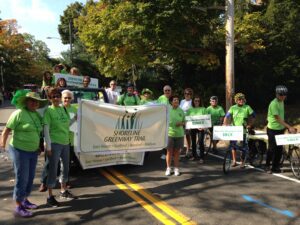 We were a festive group with our huge banner leading the pack, followed by ten walkers, one with her dog,
five bicyclists riding in circles, followed by a family with four girls in their brand new jeep festooned with SGT signs and posters.
We passed out bumper stickers and bike safety bookmarks (some had a piece of candy attached, thanks to the Levine girls!)  And a highlight was walker Joan Hickey's creative "Nature on the Trail' outfit with a huge spider attached to her SGT t-shirt and a picture hat covered with leaves – Channel 8 featured her that night!
Thanks to all our great supporters who participated:  Brad and Barbara Kronstat, Miriam Golson, Carol Grave, Tobie Meisel, Jo-Ann Basile, Joan Hickey, Chelsea Anderson, Bruce and Pam Simonds, Larry Pine, Ginette Kayser, Mark Revinski, Mark and Elise Bohner,  and Aron Goldman and Deb Levine and their four daughters in the jeep.  We all had a great time!