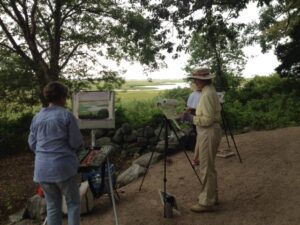 On the First Saturday in September, the Trail welcomed fifteen members of the Madison Art Society painting en plein air along the trail at Hammonasset Beach State Park.  Some thirty-five hikers walked the trail, watched the artists create beautiful scenes of vistas on the trail, and talked with them about their craft.

After the walk, the MAS held an exhibition and sale of the finished works beside the Friends of Hammonasset mum sale near our Eastern Trailhead parking lot. A second exhibition of trail paintings will be at the Scranton Memorial Library in Madison during the month of October.
Thanks to the members of the Madison Art Society for a fun and aesthetically pleasing day!
We hope to make this an annual event so if you missed it this year, watch for future announcements.   More photos of the event are on the Source website.
Click on any thumbnail below to view a scrollable slideshow.