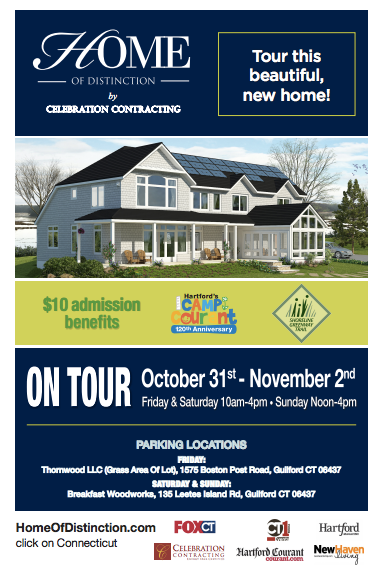 Open Friday, October 31 and Saturday, November 1 from 10:00 am-4:00 pm; and Sunday, November 2, from 12:00-4pm, this unique, highly energy efficient, 'passive house' is a gem selected by national Home of Distinction for its excellence.  Tour the house and enjoy the property's expansive water views across the marshes to Long Island Sound.  
Proceeds of the tour will benefit Shoreline Greenway Trail and Hartford's Camp Courant.
Designed by local Guilford architect Philippe Campus and built by local Madison contractor Bill Freeman of Celebration Contracting, this home, the second passive* house to be built in Guilford, provides ultimate energy efficiency and supreme comfort. See the details and meet the builders.
Tickets $10 at the door or $8 in advance.   Advance tickets may be purchased at Bishop's or by mail via SGT by sending a check made out to "SGT" with the total cost of # of tickets @$8 to Brad Kronstat, Board Treasurer, SGT,  42 Cornwall Lane, Guilford, CT 06437.   Please include email or phone number.  Your tickets will be mailed to you or held at the door if it is too late to mail.
Parking on Friday will be at Thornwood, 1575 Boston Post Road, Guilford, just east of Exit 57, with shuttle service to the home site.  Parking on Saturday and Sunday will be near the house on Route 146 at Breakfast Woodworks, 135 Leetes Island Road, Guilford, CT.
*The core principles of a Passive House include solar power, thermal bridge-free construction, super-insulation, high performance windows and doors, and a fresh air ventilation system that all work together to create a nearly air-tight home that uses only 15% of the energy required for a home built to the current or standard state building code.