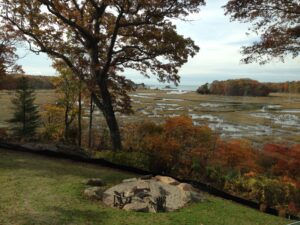 More than 500 visitors came to see the new Zero Energy home overlooking Leetes Island in Guilford over the  3-day Halloween weekend.  The views were astounding.  And, everyone wanted to know the details about saving energy from the builder, Celebration Contractors.  One vendor spent a lot of time explaining the energy systems housed in the small 2nd floor utility room ….not in the basement!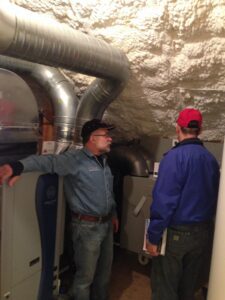 Our enthusiastic Shoreline Greenway Trail volunteers greeted people during our hosting shifts.
 Camp Courant in Hartford covered the other shifts.
We are the two lucky organizations designated by the new homeowner to share the proceeds of ticket sales, which tallied to more than $2,000 for each organization.  This is a real boost for our Shoreline Greenway Trail Guilford Town Team and helped raise money at our first Guilford Team fundraiser.
Our volunteers had a lot of fun at the event.  Even two of our stalwart parking volunteers enjoyed their stint outside helping folks park near Breakfast Woodworks in the pouring rain on Saturday.  Thank you to Mike Meisel and Milt Charlton!  Also, many thanks to volunteers Tobie Meisel, Marianne Roach, Barbara Pine, Larry Pine, Sally and Bob O'Such, Cheryl Weisberg, Julie Harris, Debbie Robinson, Nancy Fiesler, Carol Grave, Lillian Mei and Nancy Anderson!
We were a great team!    Pam Bisbee Simonds, Co-Chair, Guilford SGT Team.