At last, a biking event for EVERYONE  – riders and supporters – late in April!
     The exciting 7TH Annual "Rock To Rock" Bike Ride and Earth Day celebration will take place in New Haven on Saturday, April 25 – and we are forming a Shoreline Greenway Trail Bike Team for our members who want to participate in the ride.
     We know we have a lot of enthusiastic bike riding members from the many who have joined our First Saturday Bike Rides in all kinds of weather!
                                           Join our Bike Team, or, if you don't bike, you can support our Team with a donation pledge for this exciting event.
      It will be a fun day!  Over a thousand riders – college students, families with kids, serious cyclists, community leaders, teens, young professionals, seniors – will take part in the day-long celebration of the community and our local environment.  Finish at East Rock Park by 1pm for the picnic and entertainment. Free rocktorock t-shirts for all riders.
     This is great regional exposure for Shoreline Greenway Trail – and a fundraiser!  We are one of 24 Partner Organizations selected for their commitment to the environment.  As a Partner Organization,  we will receive all donations designated specifically to Shoreline Greenway Trail – and we will receive an even split of all undesignated donations.
     TO ALL SGT BIKERS, JOIN OUR TEAM!  Read all about the event and register to ride on 
http://www.rocktorock.donordrive.com
  (registration fees: $15 under 18, $35 adults; $25 seniors)  Be sure to select 'Shoreline Greenway Trail' as your Team.  Recruit your friends and family members to support you with their donations online for our Shoreline Greenway Trail Team.
     Another option – you may ride as an individual, or make your own team with your coworkers, family or friends.  AND you can still have that team designate its donations to Shoreline Greenway Trail Team!
     TO ALL OUR MEMBERS, LET YOUR DOLLARS CHEER US ON!  Please donate for our riders and help raise funds for Shoreline Greenway Trail.  Go on 
www.rocktorock.donordrive.com
 and select 'Shoreline Greenway Trail Team' to donate.  We set an initial goal of $1,000, and hope to raise much more.
     Our Captain of this event's Shoreline Greenway Trail Bike Team is Pam Simonds, a founding member of Shoreline Greenway Trail and the new co-chair of the Guilford Team.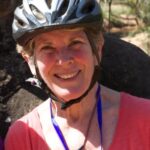 She has enjoyed biking the shoreline for more than 40 years, and already has 10 folks signed up to ride, including her husband and two grandchildren.  If you register to ride, or if you have any questions, please email her at 
sgtbikerock@shorelinegreenwaytrail.org
, or phone 203-453-2271.
     JOIN THE SGT TEAM NOW….. AS A RIDER OR A DONOR!
INFO FOR RIDERS:
– Team members do not have to ride together, nor take the same route.
– There are five different routes, all starting at West Rock and ending at East Rock, a distance of 8 miles for the popular Family police-escorted Ride, up to 60 miles for the serious Road Warrior bikers. The rides have different start times too, between 8:15am and 11am.
– Check the Rock to Rock website for details.