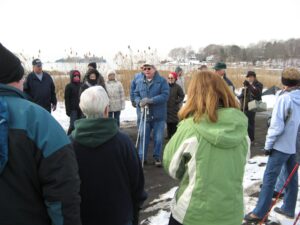 The Branford Shoreline Greenway Trial team invites you to come to our Shoreline Greenway Trail Town meeting on Sunday, March 15 from 2:00-3:30 at the James Blackstone Memorial Library Auditorium.  
We will bring you up to date on what's happening on the trail, including our exciting progress on the town's Tabor property and our inclusion in plans for Atlantic Wharf.  We'll have photos of various trail sections, a map for you to take home showing each trail section in Branford and its stage of development, and printed out directions on how to get to those Branford sections that are open for use.  We can also answer questions you may have about sections in East Haven, Guilford, and Madison.Refreshments will be served, so come spend part of your Sunday afternoon finding out how Branford is moving toward safe off road biking and walking for our families!
………………………………………..LOOKING FORWARD TO SEEING YOU!…………………………………………….