On Saturday morning, May 2nd,  twenty excited kids ages 5 – 10 came with their bikes and helmets to A.W. Cox School parking lot to ride the obstacle course with our local Guilford Police Officer O'Connor and Officer Shove, as part of their training for safe bike riding skills.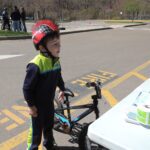 Our Guilford Shoreline Greenway Trail Team hosted the event, coordinated by Team member Kristen D'Souza with her great team of volunteers, including Robin Gangemi, Claudia Bartlett, Laura and Adam Berkowitz-Gilbert, and volunteers from Guilford's Middle and High School, Guilford Park and Rec Department and A.W. Cox 4th Grade Girl Scout troop.
After having their bikes and helmets checked out by a professional from Zanes Cycles, they followed a painted meandering line in the parking lot, avoiding various obstacles and obeying traffic signs
– to test out their bike safety knowledge and balancing skills. When they completed the course, they were thrilled to receive a "Guilford" SGT bike license plate for their bikes, designed by Team member Laura Gilbert.
During the event, families dropped off twenty three used bicycles,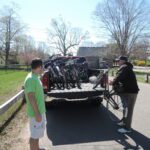 collected for Bikes for Kids, an organization out of Old Saybrook which provides needy kids and families with refurbished bicycles in the State and beyond.
We would like to thank all of our partners      who helped to make this a fun morning for the participating families.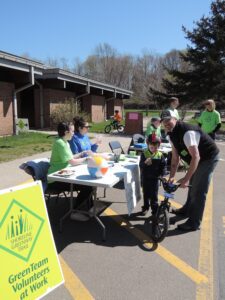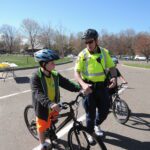 A special thank you to the staff from the Park and Recreation Department and Officers O'Connor and Shove who got up early, after working extended shifts due to the American Idol Nick Fradiani hometown visit, to make this event possible!!