Four well-behaved dogs enjoyed a lovely hike with their families and a few other hikers across the meadow and through the woods of the East River Preserve in Guilford.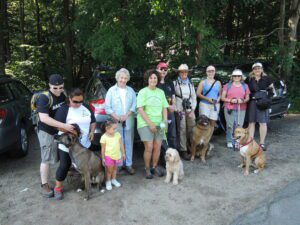 Leader Jo-Anne Basile brought a portable water bowl just for the pups, very welcome on the warm summer day.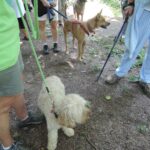 Be sure to check our website for announcement of our next Dog Walk in Guilford  – sometime this fall.  Veterinarian Dr. Chelsea Anderson of Guilford Veterinary Hospital will lead the walk with Bella June, her labradoodle, and talk about good ways to exercise your dogs.