The parade line was coming to the end as our lively Shoreline Greenway Trail team approached the Green in front of a fife and drum corps, and we were welcomed by crowds of people of all ages, many waving and cheering for our team.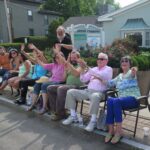 Seven members on bikes enjoyed weaving in and out and four marchers carried our banner and wore a neon green sandwich sign as the "caboose".
 Kids liked the bike safety bookmarks we passed out along the way.  Next year we plan to have lots of youngsters riding their bikes as well.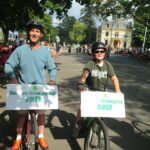 It was a great morning in Guilford thanks to our enthusiastic riders and marchers:  Brad and Barbara Kronstat, Greg Teschendorf, Craig Mullett, Ginette Kayser, Carol Grave, Geoff and Karl Brooks, Bruce and Pam Simonds, and Kristen D'Souza.