Good Ideas from the Shoreline Greenway Trail
While we are all enduring social separation and anxiety at this difficult time, one way of staying safe and well is to walk or ride your bike out in the fresh air. This is a great time to enjoy our Shoreline Greenway Trail sections, and we're happy that so many people are taking advantage of them.
These signs posted along Branford's Tabor Trail by team member Chris Willems remind us to observe social distancing rules by maintaining at least 6 feet between ourselves and other trail users who do not share our home. The state has had to close some parks because it became impossible to maintain the required social distancing. It would be a terrible loss to the shoreline if that were to happen to sections of the Shoreline Greenway Trail. So please keep your distance!
Ginny Raff, chair of the Madison SGT team, shares this report about the
HAMMONASSET SECTION OF THE SHORELINE GREENWAY TRAIL
from the Connecticut Trail Census. This is a statewide volunteer data collection program, designed to get a better understanding of multi-user trail use trends, and to make this information widely available.

If you are a regular user of the trail, it will be no surprise to you that trail usage is up significantly since the onset of the COVID-19 pandemic. According to the program's COVID-19 Trail Impact Report, the Hammonasset section of the Shoreline Greenway Trail saw a 115% increase in use compared to last year. In March 2019, the trail counter recorded 5,199 uses while in March 2020, it recorded 11,145. That is an average of 360 per day!
Please note that on a beautiful day Hammonasset can become overcrowded and may be closed by the park authorities. Try our other trail sections instead!

On a lighter note, Carrie Allen, Chair of Clinton's Blue/Greenway and a keen nature observer, took this photo of one of the painted stones placed along the Hammonasset SGT trail section by an anonymous friend.

Another of our trails in a state park is FARM RIVER STATE PARK. East Haven Chair Barbara Brow encourages us to celebrate the outdoors and the intrinsic beauty of Farm River State Park and DC Moore School Trails. The natural setting of the park offers many photo opportunities: bedrock outcroppings, marshlands, small animals, variety of birds, and the possibility to see/photo an egret or blue heron.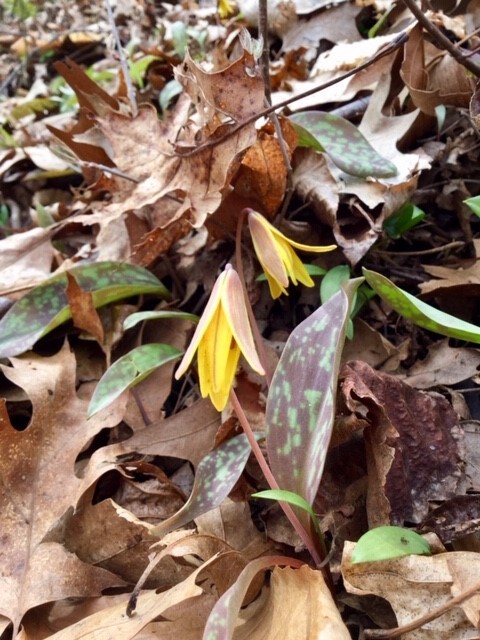 On a recent visit, we photographed some trout lilies beside the trail, a reminder that this is the time of year for spotting spring ephemeral wildflowers. In addition to the trout lilies, you might find blood root, dutchman's breeches, and sweet violets on your walks.
Near the bridge, we spotted a family having a nature lesson. What a great way to keep your children entertained, safe, and educated, all at the same time!
As you walk through the park, follow park signs and exit onto Pevetty Drive to SGT trailhead on Mansfield Groove Road, and then onto the wooded picturesque D.C. Moore School Trail with glacial outcroppings, mountain laurel and a variety of trees. At the trailhead kiosk in a brown box is an interpretive trail brochure proven popular with children and adults.
Branford's TABOR SHORELINE GREENWAY TRAIL Section is another popular spot. Like the HAMMONASSET and D.C.MOORE trails, this trail is wheelchair friendly. Benches along the trail allow you to sit for a while and ponder.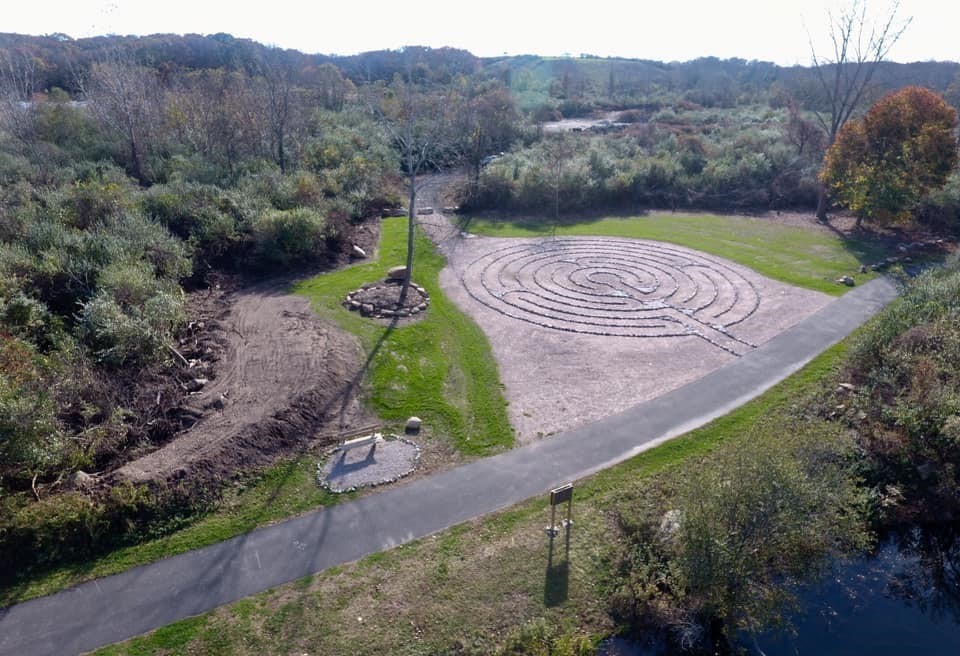 And if you're in a meditative mood, you can walk the beautiful Stony Creek granite labyrinth.
Look north from the labyrinth, past the trail and Chet's Pond, and you'll spot an osprey nest on a tall cell tower. If you're lucky, you'll catch an osprey in flight.
We thank you for your support, and hope you enjoy our trails.
Judy Miller
Chair, Shoreline Greenway Trail

Directions
HAMMONASSET BEACH STATE PARK, Madison: I95, Exit 62 following Hammonasset
Beach State Park and Shoreline Greenway Trial signs. Turn left at the intersection with Route One to find the Shoreline Greenway parking lot on your right.
FARM RIVER STATE PARK, East Haven: From 142 West-just past Riverside Firehouse take a left into FRSP parking area.
TABOR TRAIL, Branford: South Montowese Street to Branford River Gateway, left on Tabor Drive 1/2 mile to SGT kiosk on you left, across from Ark Road.
When you go to our website, you will notice that the Maps section is empty. Shoreline Greenway Trail is looking for someone who can format maps of our trails and post them on our website. Interested? Please contact Judy Miller at chair@shorelinegreenwaytrail.org.