HAPPY 2023!
We had a wonderful turnout for our Get the Children Outside walk on Sunday, January 1.
The stage was set.  Flyers were taken to all of the elementary schools and sent home with each child as they left for the Christmas holiday. The Shoreline News did a wonderful job of publicizing us in their newspapers and on Zip06. The day was wonderful!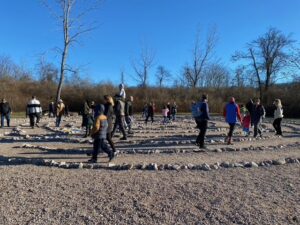 Over 60 people attended, with lots of children and dogs. We walked the labyrinth and climbed to the top of Ecology Park, as planned. Our friend Glenn G (SGT EMail wranglering volunteer) was there with his wife and their two children. Everyone enjoyed the hot chocolate and munchkins. Thanks to Tracey Brooks and Sue Smith for helping with the walk and to Ron Heiferman, for pickup up the food.  Also, thanks to Public Works for opening the gate and regarding the road up to Ecology Park to make it passable for us.
What a great way to start the new year.
See you in Madison for the next 1st Saturday walk.