Ok. How things change.     See the weather today?  50's?!?   2 Weeks ago, it was different.
It was cold…and Windy. Windchill was reported in the minus teens dF.
Shoreline Greenway Trail's 'First Saturday' walk on the Hammonasset section in Madison, didn't get a chance to shine this time.
We were ready.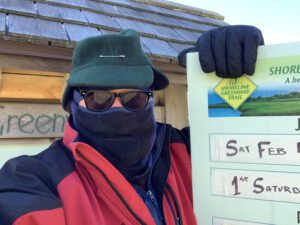 The trail is still beautiful, and we hope you get out another, warmer, time to enjoy and support the trail
Our next walk will be in East Haven on March 4th followed by Guilford on Apr 1st.
We're planning several Masters walks in the meantime so stay tuned and check out Facebook (@@@) and Instagram pages or our website (@@@).
See you on the trail.