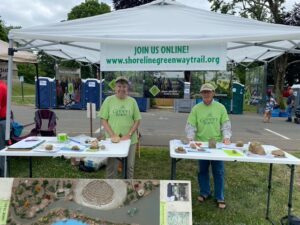 Thank you, all for a great day at the Branford Festival on June 18th. We worked hard, but it was worth it. Hundreds of people came to our booth. Special thanks to Chris Willems, we couldn't have done ti without him.  He came by with his truck at 7:00 and packed up the...
read more
It's often said that the success of a project like this takes a village. We are all part of the Shoreline village, and the success of the Shoreline Greenway Trail depends on people like you.
Donate,
Volunteer,
Add your voice of support,
or just come on out to walk, stroll or ride!